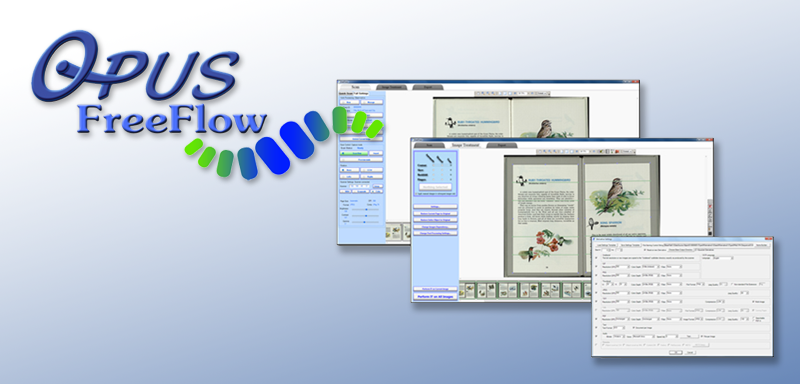 Opus FreeFlow Capturing Software
OPUS FreeFlow combines production technologies of the commercial document capture world with the special and uncompromising needs of preservationists. The result is high-performance digitization software that can be used "out of the box" or customized for large and challenging digitization projects. In either case, OPUS FreeFlow can be configured to produce output at virtually any quality level while offering the highest throughput speeds possible today.
OPUS FreeFlow was designed for optimal operation with Bookeye® and WideTEK® scanners and also imports existing images. It groups images into objects (i.e. books), which are easily managed and processed. Finally it renders those objects into a variety of derivatives.
OPUS´s simple 3-tab interface allows users to switch dynamically between scanning, image treatment, and outputting derivatives. Open and reprocess multi-page objects at any time, delete, insert new pages, and create unlimited derivatives of various image size, resolution, format and file type.
Applications
Mass digitization and scanning projects
Professional job processing
Digitization with different output formats for each scan job
File naming for import into DMS systems
Functions
Simplified job management by job list
Up to six job indices
Save user-specific scan profiles
Separate processing of the individual steps (scanning, editing, export)
Individual switching between the individual steps
Thumbnails to display all the scans within a scan job
Image processing: automatic book-fold correction, border removal, thumb/finger removal, Deskewing and background cleanup (optional)
Simplified file naming using the "Name Builder"
Parallel transmission of scanned images in up to eight different output formats eg JPEG, TIFF, M-TIFF, PDF (optional), GIF
Conversion of the individual output formats (i.e.; resolution, color depth)
Optional OCR module for the output of searchable PDFs, text files and audio formats.