PlanScan 4838Book Scanner
A0+ Book Scanner with highest scan quality and maximum performance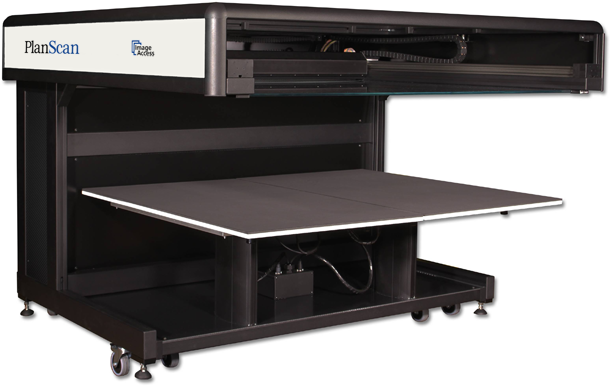 The A0 book scanner PlanScan 4838 is an alternative to the PlanScan 3650. With the camera moving from back to front and vice versa, the PlanScan 4838 achieves its enormous productivity.
With a motorized standard book cradle of 35 cm range it can handle extremely large originals. Operating the PlanScan 4838 A0 book scanner is easy and convenient. Simply place the book and hit the scan button. The rest of the process is fully automatic. All the operator has to do is to flip the page and release the scan. The book scanner is equipped with a special LED light illumination that does not produce any ultraviolet or infrared radiation. Harmless and uniform illumination is guaranteed. The illuminator of the scanner is located inside the scan head and is simply moved across the original. The scanner can be operated independent from ambient light and do not irritate the operator´s eyes.
The PlanScan 4838 A0 book scanner comes with 3D scanning mode, a scanning technology which allows users to scan many different types of originals. It offers the capability of digitizing structured surfaces such as wood, rubber, plastic, fabrics, carpet and many more types of material. Finally, light reflecting items such as coins, seals, metal prints and silver or gold coated originals can be captured at the highest quality. The 3D scanning mode can be disabled and regular 2D scanning can be performed.
Interested? Use our Contact Form. It will be a pleasure to find the right solution for your needs.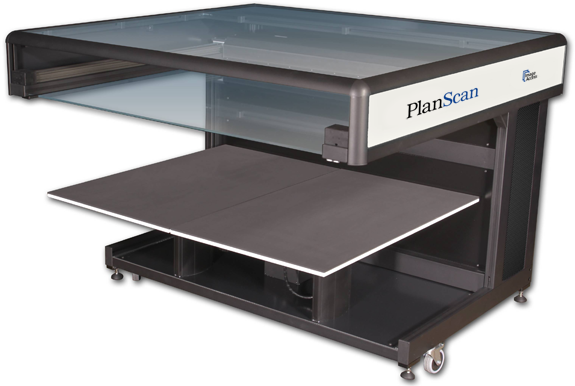 PlanScan 4838 Book Scanner - Functions & Features
Scan area more than A0
1200 dpi resolution
9 sec. for A0+ Scan @ 300 dpi
Our fastest A0 book scanner
- extremely high scanning speed
Motorized 35 cm pull out book cradle
3D scanning mode
Bidirektional scanning
Prime and consistent scanning results
independent from ambient Light
Free of IR and UV radiation
GBit TCP/IP Network Interface
PlanScan 4838 Book Scanner - Markets & Applications
Libraries
Archives
Government and private commercial organizations
Universities
Information Facilities
Land registries
Archiving documents from national and local government agencies,
registries and nonprofit organizations
Scan newspapers, periodicals, catalogs and magazines
Digitizing bound and stapled documents like contracts, accounts and documentation
Preserving books and sensitive historical documents
PlanScan 4838 Book Scanner - Product brochures
Click the links below to select a brochure.
PlanScan 4838 Book Scanner - Technical Data
Maximum Scan Area
1219 x 965 mm (48 x 38 inch), 17% more than DIN/ISO A0
Scanner Resolution
1200 dpi
Scan Speed
DIN A0+ @ 300 dpi: 9 s, DIN A0+ @ 600 dpi: 18 s
Color Depth
48 bit color, 16 bit grayscale
Scan Output
24 bit color, 8 bit grayscale, bitonal, enhanced halftone
File Formats
Multipage PDF (PDF/A) and TIFF, JPEG, JPEG 2000, PNM, PNG, BMP,
TIFF (Raw, G3, G4, LZW, JPEG), AutoCAD DWF, JBIG, DjVu,
DICOM, PCX, Postscript, EPS, Raw data and more
ICC Profiles
Embedded for sRGB, Adobe RGB and native.
Individual profiling via web based Scan2ICC subscription
Camera System
Four Tri-color CCD cameras, encapsulated and dust-proof
Light Source
White LEDs, classified IEC 60825-1: class 1, IR and UV free
Lamp Lifetime
50,000 h typ. Lamps are covered by the Extended Warranty Option
Computer
64 bit Linux, 16 Gigabyte RAM, 320GB HDD
Interface
GBit TCP/IP Network interface
Software
Batch Scan Wizard, other Software optional available
Standard Book Cradle
35 cm pull-out, motorized
Dimension
H x W x D: 1070 x 1490 x 1430 mm (42 x 59 x 56 inch)
Weight
130 kg (287 lbs.)
Environment
Operating temperature 5 to 40 °C (40 to 105 °F),
relative humidity 20 to 80% (non-condensing)
Technical changes, errors and omissions excepted. All information subject to change.